Ford College Graduate Program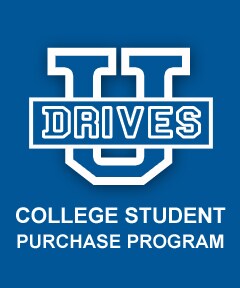 Graduate To A New Set Of Wheels
$500 Student & Graduate Bonus Cash
We know tuition and books are expensive. That's why we developed the College Student Purchase Program. College students and recent graduates are eligible for a $500 incentive, plus great rates through Ford Credit when you purchase or lease a new Ford vehicle.
PROGRAM DETAILS
To be eligible, students must meet one of the below requirements:
Active College/Trade School Students:
Student is enrolled Full-time OR Half-time based on the specifications of an accredited Four-Year College/University, Junior College, Community College, or Trade School that the student is attending
Active Graduate Students:
Student is currently enrolled based on the specifications of an accredited Graduate School program
Recent College Graduates:
Student has graduated and is within 3 years from their date of graduation. For example, student graduates May 6, 2017 - they will be eligible until May 31, 2020. A student graduated on May 4, 2016, they are eligible through May 31, 2019.
High School Seniors or Recent High School Graduates with a letter of intent to attend a qualifying university:
Student must have completed all requirements for graduation to qualify using an anticipated or future graduation date, and have can provide Letter of Intent to attend a qualified university.
College Student Internships Participants, Trade School Apprenticeships and Medical Student residencies now qualify with the following restrictions:
Student has attended or will attend college classes again between May 1, 2018 and January 2, 2021.
Ineligible Student Categories:
Those students enrolled less than half time based on the specifications of an accredited College/University/Trade School.
One-course completion certificates.
On-the-job training courses (i.e. sales training, teaching certificates, professional designations and adult education courses).
English as a second language courses do not qualify
PROOF OF STUDENT ELIGIBILITY
Proof of Full-Time or Half Time enrollment status based on the specifications of an accredited Four-Year College/University, Junior College, Community College, or Trade School
OR
For those students between terms (i.e. summer semester/vacation) or recent high school seniors entering their first term in college in the fall of 2019, proof of prior or future term enrollment (see examples below)
Examples of eligible documentation include, but are not limited to the following:
Copy of College/University Diploma
Copy of Final Transcript
Letter from College/University/Trade School Registrar's office stating conferred graduation date and type of degree earned
Dated letter of intent confirming enrollment - valid for no more than 6 months
Current class schedule
Note: Student's full name and school name must be listed as an original part of the provided documentation.