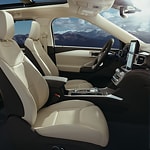 At our last Central Ford team meeting, we struggled to name the Ford Explorer's absolute best performance features. All of them are magnificent, which is why the Explorer is so popular among three-row SUVs. Don't take our word for it. See for yourself. Here are two performance features that showcase why everybody loves this SUV.
The Terrain Management System
At the wheel of the Explorer, you don't have to worry about shifting gears or pressing nobs to safely overcome sand, snow, slippery roads, or heavy towing and hauling. Explorer's Terrain Management System lets you select drive modes that automatically adjust Explorer's selective braking, engine power, and gear-shifting to maximize traction and handling on Trumann, AR roads in any weather and challenging off-road scenarios.
No More Swaying Trailers
Swaying trailers are inevitable, but they don't have to be deadly. The Explorer treats drivers to Trailer Sway Control, a system that can detect trailer sway and then adjust engine power and braking to prevent tipping or rollover.
See all of the Ford Explorer's performance features in real-time and up close with a test drive at our dealership today.